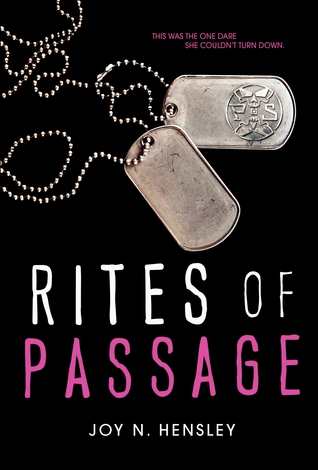 Publication Date:
September 9th 2014
Publisher:
Harper Teen
Source: Purchased
Rating:

 ★★★★

Sam McKenna's never turned down a dare. And she's not going to start with the last one her brother gave her before he died.

So Sam joins the first-ever class of girls at the prestigious Denmark Military Academy. She's expecting push-ups and long runs, rope climbing and mud-crawling. As a military brat, she can handle an obstacle course just as well as the boys. She's even expecting the hostility she gets from some of the cadets who don't think girls belong there. What she's not expecting is her fiery attraction to her drill sergeant. But dating is strictly forbidden and Sam won't risk her future, or the dare, on something so petty...no matter how much she wants him.

As Sam struggles to prove herself, she discovers that some of the boys don't just want her gone—they will stop at nothing to drive her out. When their petty threats turn to brutal hazing, bleeding into every corner of her life, she realizes they are not acting alone. A decades-old secret society is alive and active… and determined to force her out.
At any cost.

Now time's running short. Sam must decide who she can trust...and choosing the wrong person could have deadly consequences.
Push ups, long runs, jumping jacks, rope climbing and mud crawling, especially doing those early in the morning. Man, it's a hard cord work out right there. Sam, Sam, Sam you rock! I didn't think I could survive if I were there. Seriously I would be dead before the next day. The synopsis is kind of misleading because I thought romance would be a huge factor in this book. Well, no brainier could have guess how it would go, girl is in the military school that has a majority of boys. No joke here guys. Yes, it has its fun moment but the rest of the story you will get to have a general idea of how the life at the Military Academy is. And from reading this book, I would say "Hello hell." Plus there's a bit of mystery in there too. What do you think? Hell and the unknown (don't know who to trust or who the enemy is) My advice, prepare your mind for it because this book will keep you on the edge most of the time. You have been warned, my friends.
It was such an enjoyable read mainly because I was so eager to find out about all those secret society members who make Sam's life a living hell. Romance, yeah it's there but for me it's not the important part and it's a light one too. Overall, a well written, a good pacing and a fantastic storyline. In other word, pick this book up.