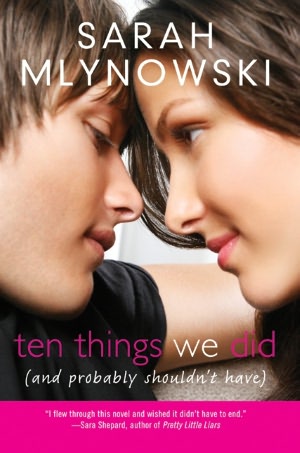 Author Info: website
Release Date:
June 7th 2011
Publisher:
HarperTeen
Pages:
368
Source: Purchased
Rating:
★★★★★
2 girls+ 3 guys+ 1 house – parents= 10 things April and her friends did that they (definitely, maybe, probably) shouldn't have.
I adore this book, it's just a cute little story. I had a good laugh LOL when reading it. I meant it, the book was so enjoyable. The story was so fast paced and it's so interesting that I kept turning the page like crazy.
The characters, the story everything felt so real. I forgot to mention that this is a YA fiction (contemporary/ chic lit) so I do not know if everyone will have the same amazing experience as I was. I was on the edge the whole time worrying if the things they (April and Vi) did were too crazy and what happened if they ever got caught. The ending was ...I did not know what the right word to use here, after reading it, I felt everything fell to its place, just peaceful and full of happiness. In conclusion if you want to have a quick light read to take your mind of this busy world then this is the right book for you.