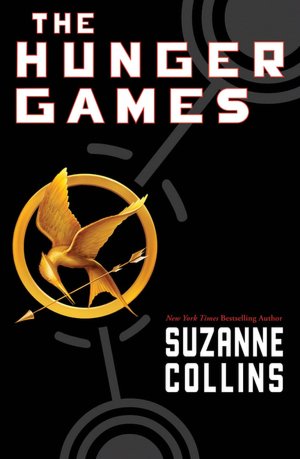 Author Info: website
Release Date: October 31st 2008
Publisher: Scholastic Inc.
Pages: 374
Source:
Purchased
Rating: ★★★★★
Could you survive on your own, in the wild, with everyone out to make sure you don't live to see the morning?





In the ruins of a place once known as North America lies the nation of Panem, a shining Capitol surrounded by twelve outlying districts. The Capitol is harsh and cruel and keeps the districts in line by forcing them all to send one boy and one girl between the ages of twelve and eighteen to participate in the annual Hunger Games, a fight to the death on live TV. Sixteen-year-old Katniss Everdeen, who lives alone with her mother and younger sister, regards it as a death sentence when she is forced to represent her district in the Games. But Katniss has been close to dead before-and survival.
I was not sure if I wanted to read this book or not. Before I actually read the book I got a pretty much idea of what the story was about "some teenagers were put together to kill each other in order to survive." My thought was like why in the world I wanted to read about someone kills someone else, it's just sicken. That's why I just didn't get how the book had so many good reviews. Not to mention the movie that came out back in March, everyone I knew of was so excited waiting for it so I gave in and tried to read it.
As much said that I am glad that I did. This was my first dystopian book. After a few pages I totally got sucked in. The book was fast paced read but unlike my previous reading experience. I had to take a break two times to calm myself and to breath in all the amazing. The book also had some funny moments that gave me a good laugh. It also made me cry when Rue was dead. I knew she was not going to survive this ruthless game when she said she has not gotten anything from the sponsors. It was a clear hint right there and I immediately felt sorry for her. I felt so emotional once more when the district 11 gave Katniss bread as a thank you. I was so sad that I decided to stop reading when I finished up the chapter that I was currently reading since I couldn't stand if either Katniss or Peeta die. But the end of chapter gave me hope that both of them had a chance to come back home. Thus I did continue reading and the story did not fail me especially the bond between Katniss and Peeta. I did not know if they actually had feeling for each other or just acted out but they got me. I did feel butterfly in my stomach when those two were together. I was going to read the second book but I think I should take a little break and read some stand alone book before going back reading the second book. Just not ready yet for some intense read =/
PS: let's talk a little bit about the cover. I had a hard copy of the book and I did not like the cover(aka the jacket) so I took it off when I read. And then I saw the black background with golden mocking jay with the arrow....wow how's beautiful. This is way way better than the actual cover. And when you open the book the red intro page...much more catching to the eyes. You may or may not known but I am a cover sucker and I do tend to choose book based on its cover even though I knew the old old saying about " Don't judge book by its cover."