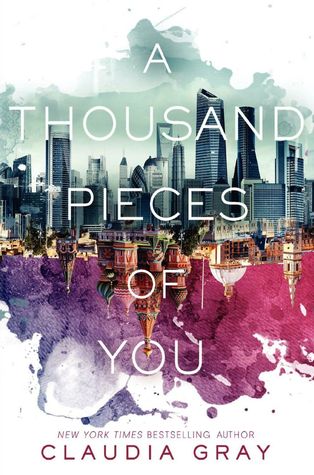 Publication Date:
November 4th 2014
Publisher:
Harper Teen
Series:
Firebird #1
Source:
Purchased
Rating:

 ★★★

Every Day meets Cloud Atlas in this heart-racing, space- and time-bending, epic new trilogy from New York Times bestselling author Claudia Gray.

Marguerite Caine's physicist parents are known for their radical scientific achievements. Their most astonishing invention: the Firebird, which allows users to jump into parallel universes, some vastly altered from our own. But when Marguerite's father is murdered, the killer—her parent's handsome and enigmatic assistant Paul—escapes into another dimension before the law can touch him.

Marguerite can't let the man who destroyed her family go free, and she races after Paul through different universes, where their lives entangle in increasingly familiar ways. With each encounter she begins to question Paul's guilt—and her own heart. Soon she discovers the truth behind her father's death is more sinister than she ever could have imagined.

A Thousand Pieces of You explores a reality where we witness the countless other lives we might lead in an amazingly intricate multiverse, and ask whether, amid infinite possibilities, one love can endure.
*Be aware a wall of rants*
This book, I literally dropped everything and started reading as soon as I got it. I just couldn't resist such a beautiful, breath taking cover and not to mention the story is about
multiverse-->LOVE
. I had so much hopes for it to be my favorite read of the year. So sad it didn't live up to my expectations. However, I've to admit A Thousand Pieces Of You is a page turner. I kept reading mainly because I wanted to know the answer for the murder thing. Also it's a fast paced read so it didn't take me long to finish it. If the pacing were slow, I'd have DNF-ed out of boredom.
Multiverse, basically there is a universe for every single one of our choices. Claudia Gray has done a good job to make it simple and straight to the point but I wish I could read more about how to use the device to jump between universes or how it actually works. Not like I wanted her to go into every tiny little details but don't just say use this "firebird" and
voila
you're in a different universe (a little explanation would be great).
Marguerite, her decision to go after the man who destroyed her family is not what I'd call brave or a sense of justice. In my eyes, it's reckless and unthoughtful. Why? because (a) Marguerite has no evidence to know for sure if it's Paul who did all those things (b) Marguerite doesn't know for certain if the device would work, she would have die and cause her mother a great grief (losing both her husband and her daughter in a short period of time). She's acted based only on assumptions (unbelievable!) and she is growing up with scientists, grad students. Seriously it really doesn't need an advance degree, just some logic thinking would do. Oh and when she is in a different universe her actions are once again reckless which can cause harm to the person whom she is borrowing the body from. Irresponsible Marguerite, you borrow someone else's body/life then for god sake don't mess their lives up. All you do is jump to the next universe and let them (the Marguerite that lives in that universe) deal with the mess you've created. I just couldn't be on board with Marguerite's actions.
Now let's talk about the romance. After reading this book, I thought I'm a cold heart person. No tear. How could I suppose to cry or feel sad when I felt nothing about their wonderful, magical love? There's not even a chemistry between them (I saw no sparks).
There are more I want to talk about but I think this review is long enough. And all the main things I already said it so I better stop before writing a novel here.