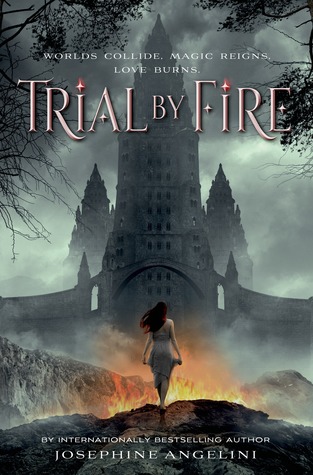 Publication Date:
September 2nd 2014
Publisher:
Feiwel & Friends
Series: The Worldwalker Trilogy #1
Source: Purchased
Rating:

 ★★★★ ½

This world is trying to kill Lily Proctor. Her life-threatening allergies keep her from enjoying experiences that others in her hometown of Salem take for granted, which is why she is determined to enjoy her first high school party with her best friend and longtime crush, Tristan. But after a humiliating incident in front of half her graduating class, Lily wishes she could just disappear.

Suddenly, Lily is in a different Salem—one overrun with horrifying creatures and ruled by powerful women called Crucibles. Strongest and cruelest of them all is Lillian . . . Lily's other self in this alternate universe.

What makes Lily weak at home is what makes her extraordinary in New Salem. In this confusing world, Lily is torn between responsibilities she can't hope to shoulder alone and a love she never expected.
This was one of my most awaited books of 2014. Multi-universe and magic, well those just scream my name. So as soon as I got this baby in my hand I literally dropped everything and devoured it right away. I just love Josephine Angelini's books. She has a way to tell a story that can capture your heart and once you start reading, you don't want to stop until you reach the last page. The only reason I didn't give this book 5 stars was because of the romance. I just didn't feel the chemistry yet and somehow it seemed so awkward. Oh and how I disliked the fact that Lily suddenly falls in love. Please can I have one quick question, Lily? How long, again have you guys met? I guess it must be years right? oh it's not, a day, you said. Inst-love is not my forte. Other than that, this was a great read.
I didn't expect this book to be funny so that was a nice surprised there. Not straight out lol but still I think it was nice, consider they are in a middle of a crisis. The witchcraft here, unlike other witchcraft books that I read when things just suddenly appear/disappear out of thin air with no explanation how they can do it, this one, my friend, you will have a full detailed explanation. How Lily's body feels or does (how the particle forms/breaks) when she performs magic. Cool right.
Anyway, I had a jaw dropping moment at the end. Totally didn't expect that at all. Seriously with that kind of ending, I have to say it really is a torture to wait for the next book.