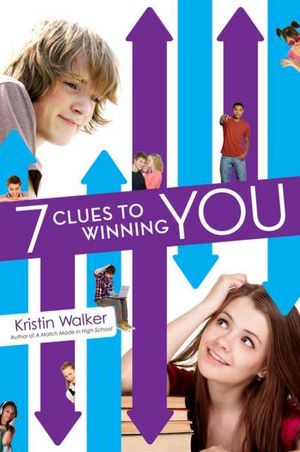 Release Date:
April 26th 2012
Publisher:
Razorbill
Pages:
317
Source: Purchased
Rating:
★★★½
When a humiliating picture of Blythe goes viral, she's instantly the target of ridicule at her new school. To salvage her reputation, Blythe teams up with Luke to win the Senior Scramble scavenger hunt. But Luke is an unlikely ally and potentially can't be trusted.

Perhaps it's his Shakespearean witticisms that reel Blythe in despite her better judgment . . . or maybe she just craves the thrill of the game. But as the hunt progresses, their relationship heats up. Soon their madcap mischief spirals out of control. Blythe is faced with arrest and expulsion, among other catastrophes - until Luke shows her what the Scramble (and love) is really about.

This one was on my reading list for a while now before I decided to pick it up few days ago. I didn't know why I did not read this any sooner. What was it that turned me off? The cover? maybe...true that I dislike the cover, but it's not like I hate it or anything. It did the job of illustrating the story: guy and girl were place from opposite direction indicate that they are from literally two different worlds, and the seven arrows up and down (like a treasure hunter's map) would somehow connect or lead them together. However it somehow looks ordinary, blended in the shelves and you may miss it when you are passing by.

Anyway let's talk about the book shall we? This is a light heart story, a perfect for summer read. It may have some stuffs that made me not all crazy in love with. The way Blythe was at the beginning of the book and her BBF Tara was just so unbelievable ...it's like high school all over again. Yup what was I thinking? this story set in high school so of course those crazy dramas need to be there. But still I had a good time reading it, the dramas were manageable. The book is hilarious too: It made me laugh when Blythe acts like she's mourning her beloved so she's not getting caught doing the senior scramble. And it is really CUTE the way Luke asked Blythe to go to the senior prom. It's creative and sweet, it's just sad that only fiction guys know those things. Fiction guys always know their way around girl and they were born all to be a such a sweetie. Not like real guy don't but the majority of real guy just like to ignore all those little details. I love the ending, as always it's a happy ending. I tend to avoid any books that do not have a happy ending-- life is hard enough that I don't need any more sadness adding to it.