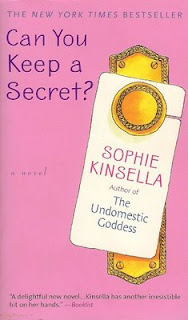 Publication Date:
December 27th 2005
Publisher:
Dell Publishing Company
Source:
Purchased
Rating:

 ★★★1/2

Meet Emma Corrigan, a young woman with a huge heart, an irrepressible spirit, and a few little secrets: Secrets from her boyfriend: I've always thought Connor looks a bit like Ken. As in Barbie and Ken. Secrets from her mother: I lost my virginity in the spare bedroom with Danny Nussbaum while Mum and Dad were downstairs watching Ben-Hur. Secrets she wouldn't share with anyone in the world: I have no idea what NATO stands for. Or even what it is. Until she spills them all to a handsome stranger on a plane. At least, she thought he was a stranger.…Until Emma comes face-to-face with Jack Harper, the company's elusive CEO, a man who knows every single humiliating detail about her...
This is my first time reading anything by Sophie Kinsella and I think I'll check more of her books because I've a feeling that she will be my favorite author. A lot of people raved about this book so I had a really high hope that I would love it too and maybe this would be the book that could pull me back into reading again. As you may or may not known I've not read any fiction books for almost a year. Something happened in my life and when I turned to reading for an escape, it failed me. I couldn't get into the story, couldn't feel the characters. So there I was, in the biggest reading slump of my life so far.
Anyway Can You Keep A Secret made me laugh out loud so many times but it also gave me so much rage. I really disliked Emma. I don't know what it was about her but it just rubbed me the wrong way. Actually I could make a list of things that she did from the beginning of the book till the very end that drove me crazy. But doing so means spoilers that's why I keep my mouth shut. Ugh, I really couldn't stand Emma.
This is one of those books that even though you're not a fan of the MC but you still keep reading mainly because it's a light, enjoyable read. The plot was good, characters and romance were not so much. Emma was not a boring character. She was so annoying. The things that she did made me cringe. I don't even want to talk about the romance in the book because it was so cliche and unrealistic. Plus there was no chemistry. I wish it would end differently. If it was I think I'd like the book a little bit more.
To sum it up, yes it did its job of pulling back into the reading world (I know what I want to read next already). Can You Keep A Secret is an easy, quick read. A really funny book.