Publisher:
HarperTeen
Release Date:
June 17th 2014



No matter how many boys Claire kisses, she can't seem to find a decent boyfriend. Someone who wouldn't rather date her gorgeous best friend, Megan. Someone who won't freak out when he learns about the tragedy her family still hasn't recovered from. Someone whose kisses can carry her away from her backwoods town for one fleeting moment.




Until Claire meets Luke.




But Megan is falling for Luke, too, and if there's one thing Claire knows for sure, it's that Megan's pretty much irresistible.




With true love and best friendship on the line, Claire suddenly has everything to lose. And what she learns—about her crush, her friends, and most of all herself—makes the choices even harder.




In her moving debut, Rachael Allen brilliantly captures the complexities of friendship, the struggles of self-discovery, and the difficulties of trying to find love in high school. Fans of Sarah Ockler, Susane Colasanti, and Stephanie Perkins will fall head over heels for this addictive, heartfelt, and often hilarious modern love story.


A Day in the Life of Rachael Allen
I'm a scientist by day and a mommy to a 3-year-old and a new baby. Instead of telling you about what that's like on any old day, I'm going to tell you about a really exciting day. The day I found out I had a book deal.
We were out on sub, and I knew things were happening and editors were reading, but I was happy to be kept busy with my regular life and just know that those things were happening off somewhere in fantasyland.
I was doing all the highly glamorous things I normally do: eating cranberry walnut oatmeal, taking my daughter to daycare, trying to get out of the house without getting dog fur/spit up/all manner of things on my outfit. And at about 4:00 pm, I got the call from my awesome agent, Susan Hawk, telling me Jen Klonsky at HarperTeen had offered to buy my book.
But wait, let me back up.
I work in a lab. Sometimes we do gross stuff. Stuff with brains. Stuff with eyes. I don't get grossed out because I think it's really freaking cool, but if you thought it was gross, I wouldn't hold it against you. So, I was slicing brain sections from rats that had had strokes and staining them using an enzyme that produces a red product in metabolically active tissue science. And then this happened:
5 minutes before I got the call: I spilled brain juice in my chair without realizing it.
1 minute before I got the call: I sat down.
I think we can ALL agree that the feeling of brain juice seeping into your pants is not a good one. I'm not big on the swears, but let me tell you, I was cursing up a blue streak when my phone rang.
I checked the screen. It was Susan! Susan never called without setting up a time first! This had to be big news! I did that thing where you make your voice go from ragey to sweet in 0.2 seconds, and then I said, "Hello?" in a tone that was surely angelic and gave no hint of the previous brain juice debacle.
Then Susan gave me the best news ever: Somebody wanted 17 FIRST KISSES! And not just 17 FIRST KISSES, but another book I hadn't even written yet! And I am here to tell you that brain juice or no, when you get the call, you happy dance =)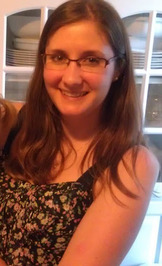 Rachael Allen lives in Atlanta, GA where she's working furiously on her PhD in neuroscience. When she's not doing science or writing YA, you can find her chasing after her toddler and her two sled dogs. Her debut YA novel 17 FIRST KISSES, is forthcoming from Harper Teen. Rachael may or may not have had 17 first kisses...luckily she doesn't kiss and tell.
Win (1) Signed Copy of 17 First Kisses + Swag, + an ARC of I Will Give You the Sun by Jandy Nelson (US Only)